Pacific Ocean Ceremony
by Ocean Grave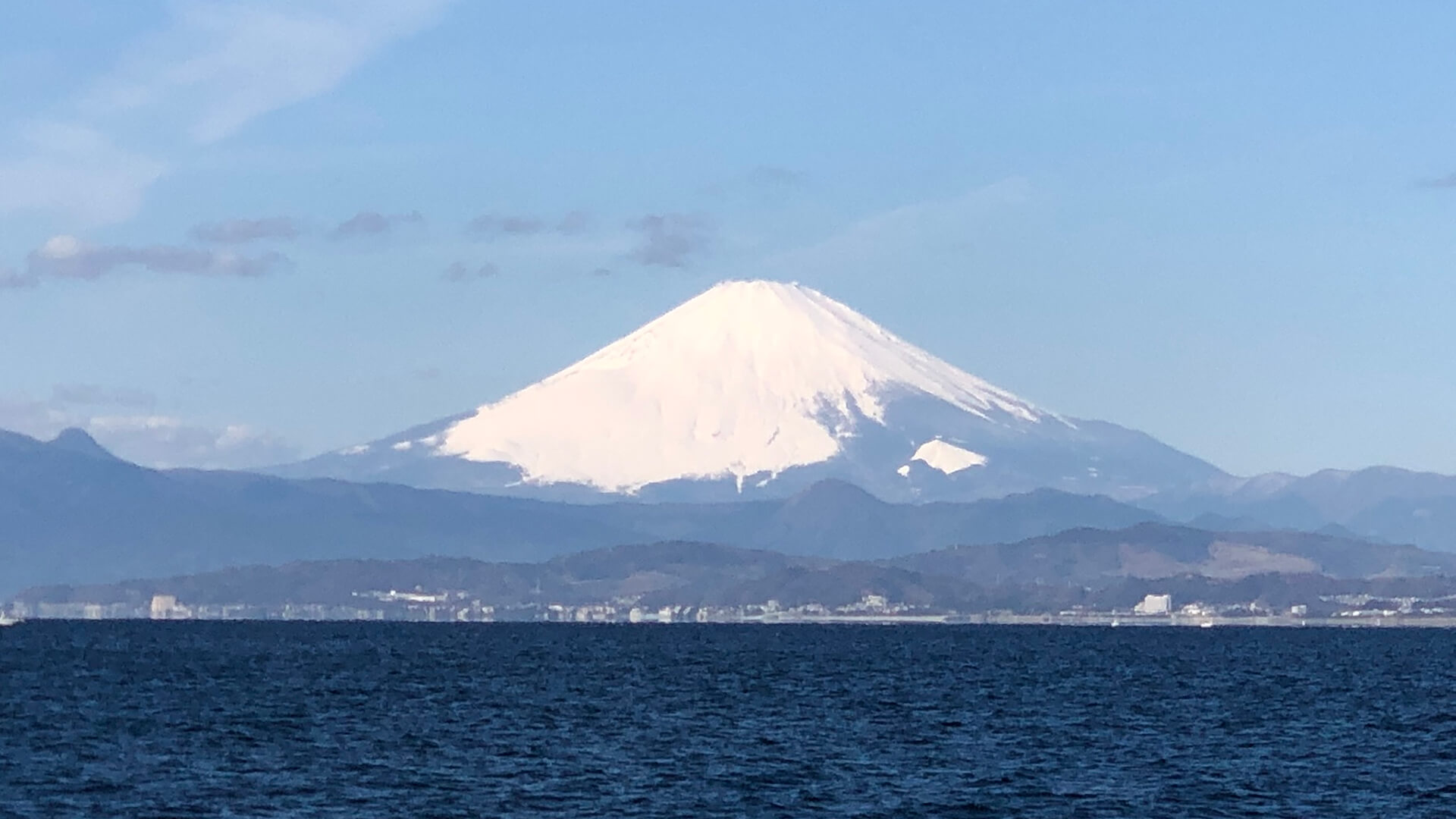 Scattering of Ashes Ceremony in Sagami Bay, a beautiful spot in the Pacific Ocean watched over by sacred Mt. Fuji A dignified last resting place in the Pacific Ocean The choice of final repose with Mother Nature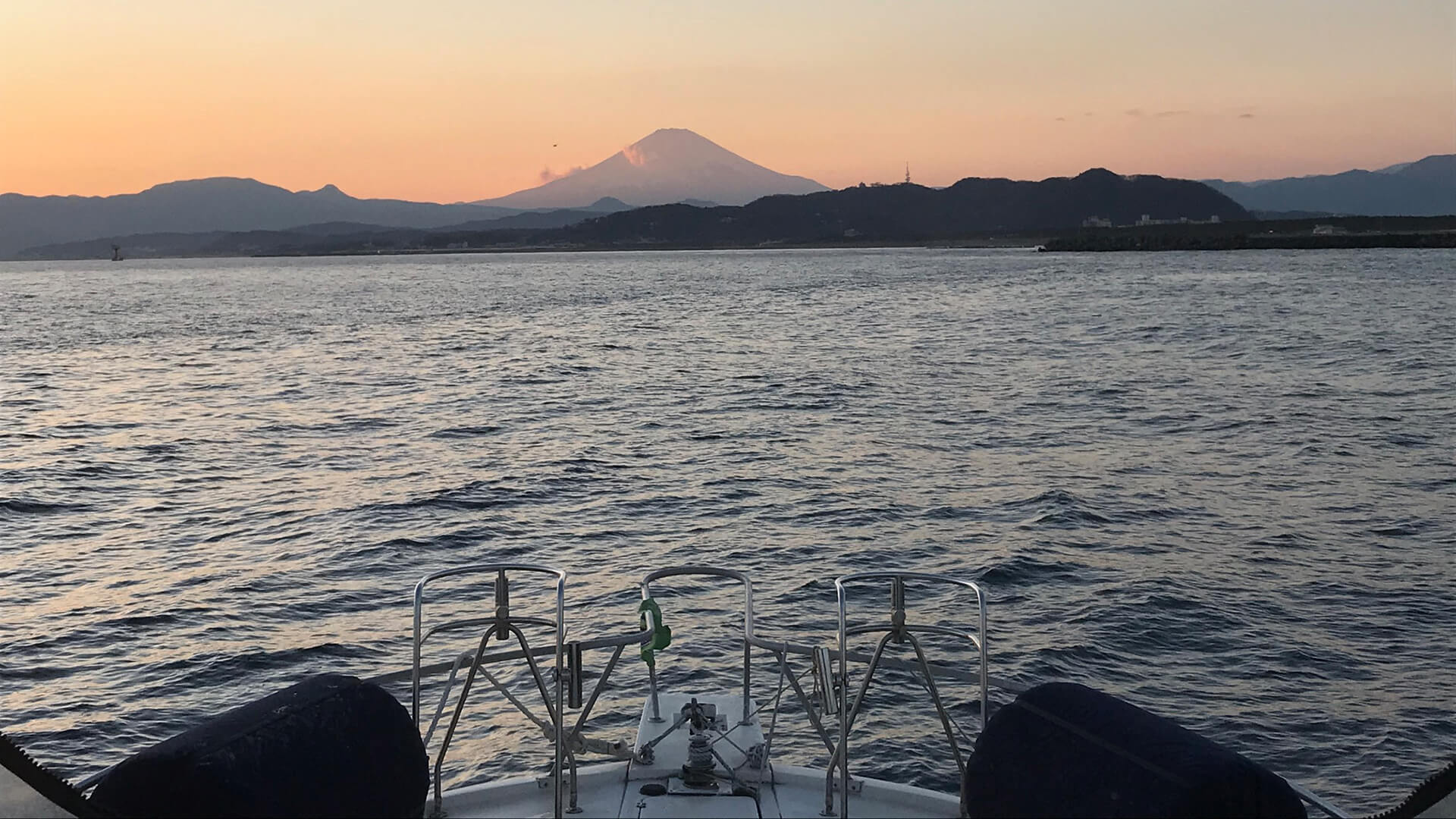 Have you ever considered bidding a final farewell to your departed loved ones with a scattering of ashes at sea ceremony in beautiful Sagami Bay as they set off on a new voyage in full view of Mt. Fuji?
Introduction to Ash Scattering
Scattering of Ashes at Sea Gaining Favor
The scattering of ashes at sea has emerged recently as a new option for bereaved families and relatives for the final repose of the deceased person's remains amid a major change in attitudes in Japan towards funerals and graves. As the years go by, ash scattering is becoming more widely accepted, and the desire to "return to Nature after death" has appealed to more and more people.
The Law on the scattering of ashes at sea
There is currently no explicit law pertaining to the scattering of ashes at sea, but the Ministry of Justice has expressed the opinion that "so long as [the ash scattering at sea] is conducted discreetly and with the objective of holding a funeral then it does not amount to an offense under s. 190 Criminal Code, which forbids the abandonment of human remains. The Ministry of Health, Welfare and Labor has similarly expressed the opinion that there is "no provision in the Cemeteries and Burials Act which prohibits it".
Scattering of ashes at sea: the rules
The scattering ashes of the deceased at sea must be carried out discreetly so as not to offend those whose lives depend on the sea or those enjoying marine leisure activities. They should be treated with respect. Currently, the National Association of Approved Ash Scattering Vessels comply with Association constraints, which includes the requirement to scatter ashes at sea beyond at least one nautical mile (1NM or 1,852m) offshore. Also, the stalks and wrapping around flowers cast over the side with the ashes are first removed in order to protect the marine habitat.
Licensing of ash-scattering vessels and pilots
For a vessel to be allowed to carry passengers and scatter ashes at sea, it must be registered as a charter vessel and approved by the Ministry of Land, Infrastructure, Transport and Tourism. The scattering of ashes at sea by un-licensed vessels (fishing vessels and leisure craft) is a breach of s.20 of the Maritime Transport Act, so care is necessary as the penalties for being caught are severe. The pilots of licensed vessels must also be properly licensed. Our cruiser captain is a veteran sailor with a deep knowledge of the waters around Tokyo Bay and Sagami Bay whose vast experience contributes much to a safe and relaxing voyage.
Our Five Assurances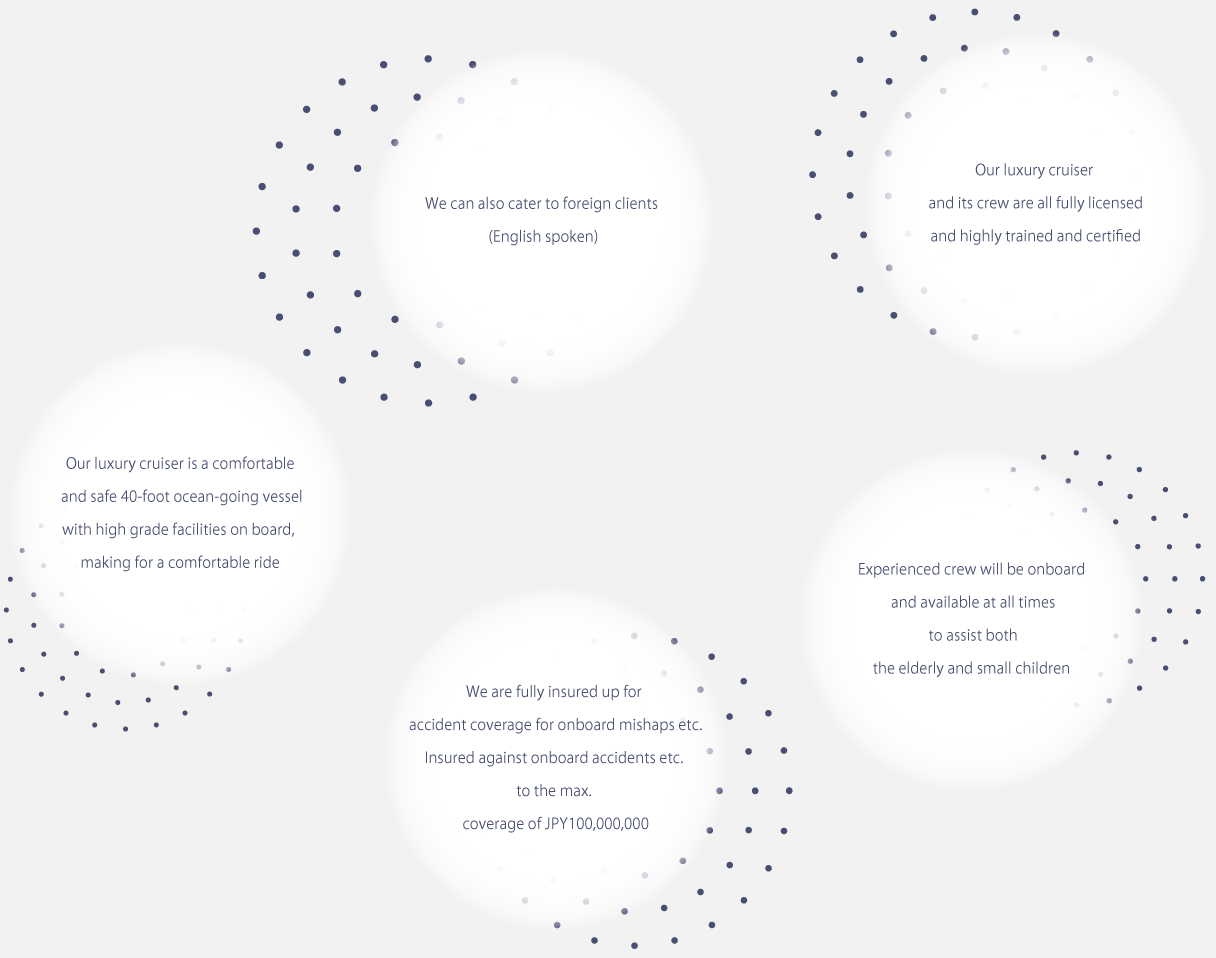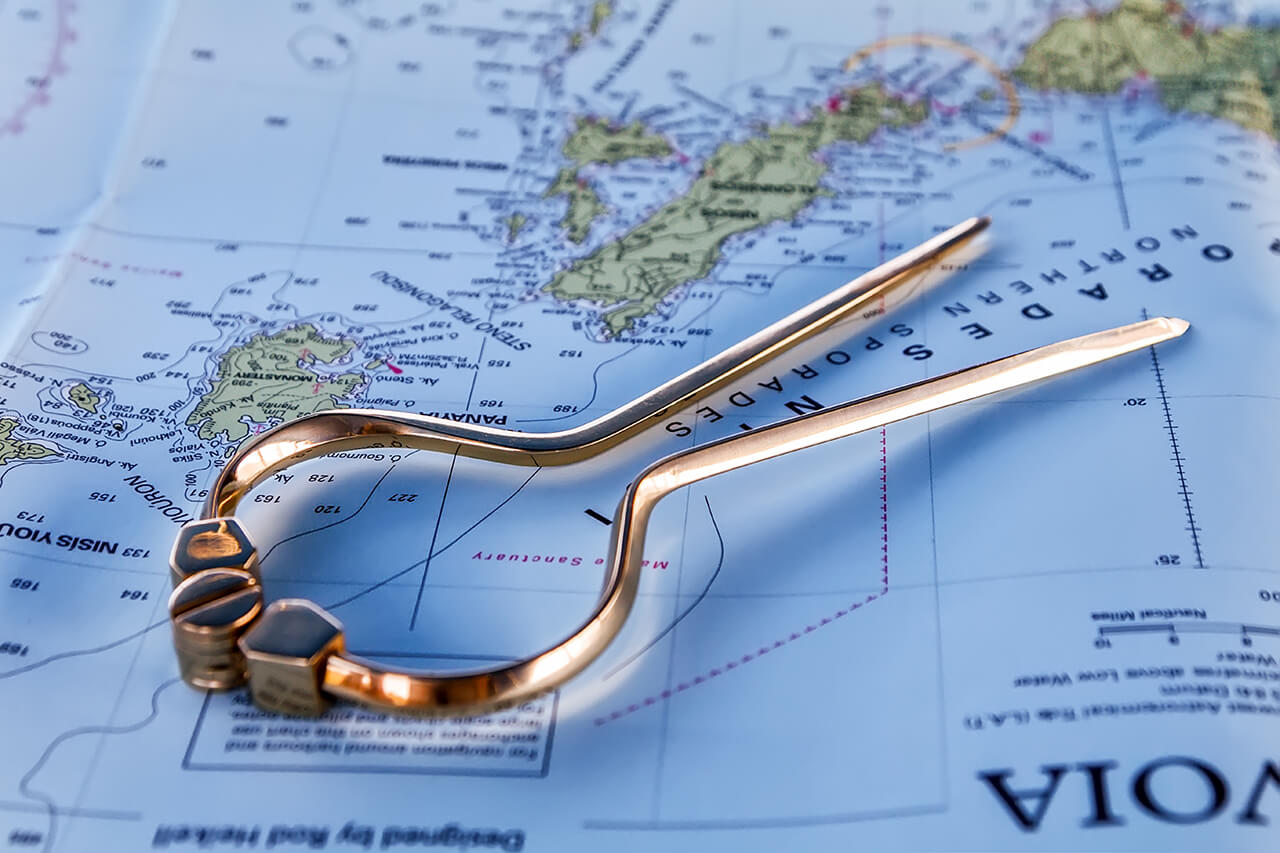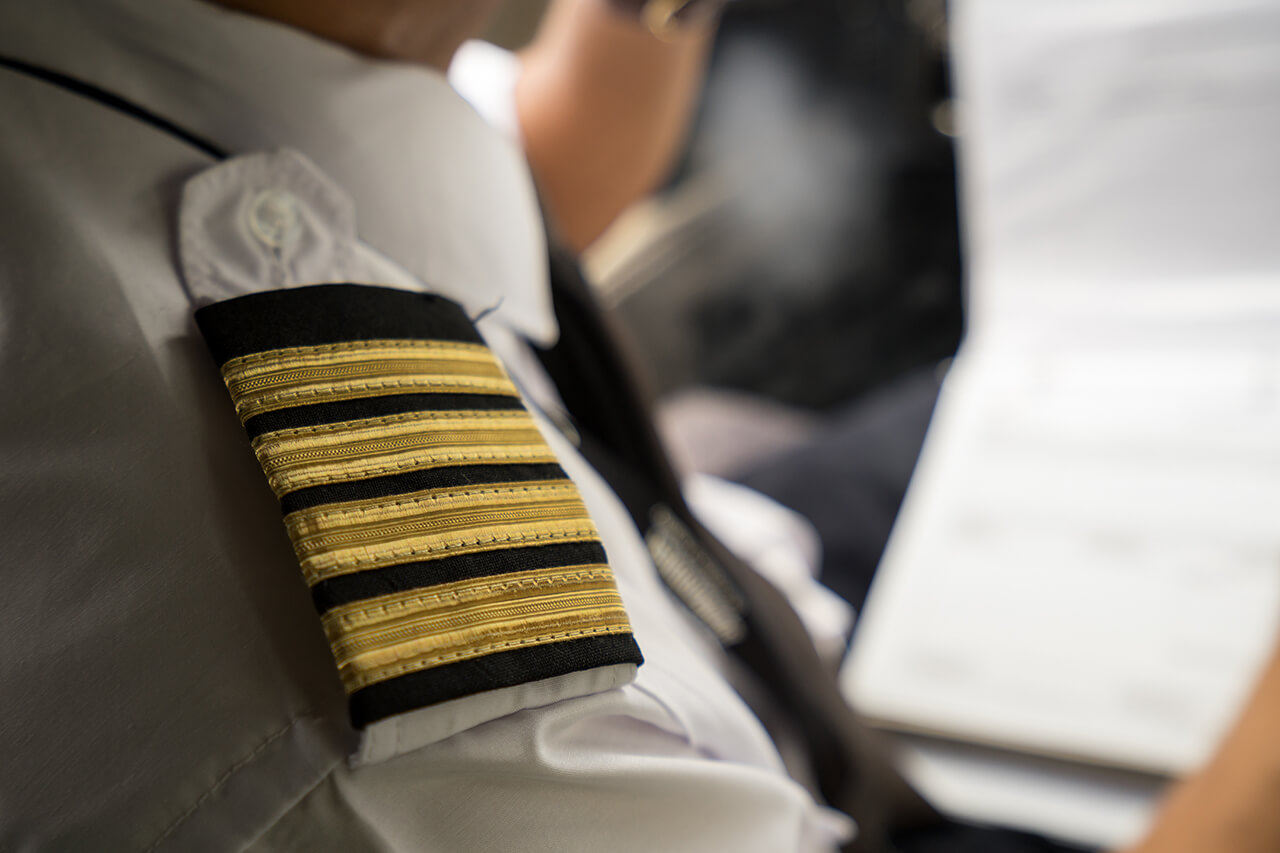 We currently have two plan options to suit your pocket and preferences for the deceased.
Reserved Charter Plan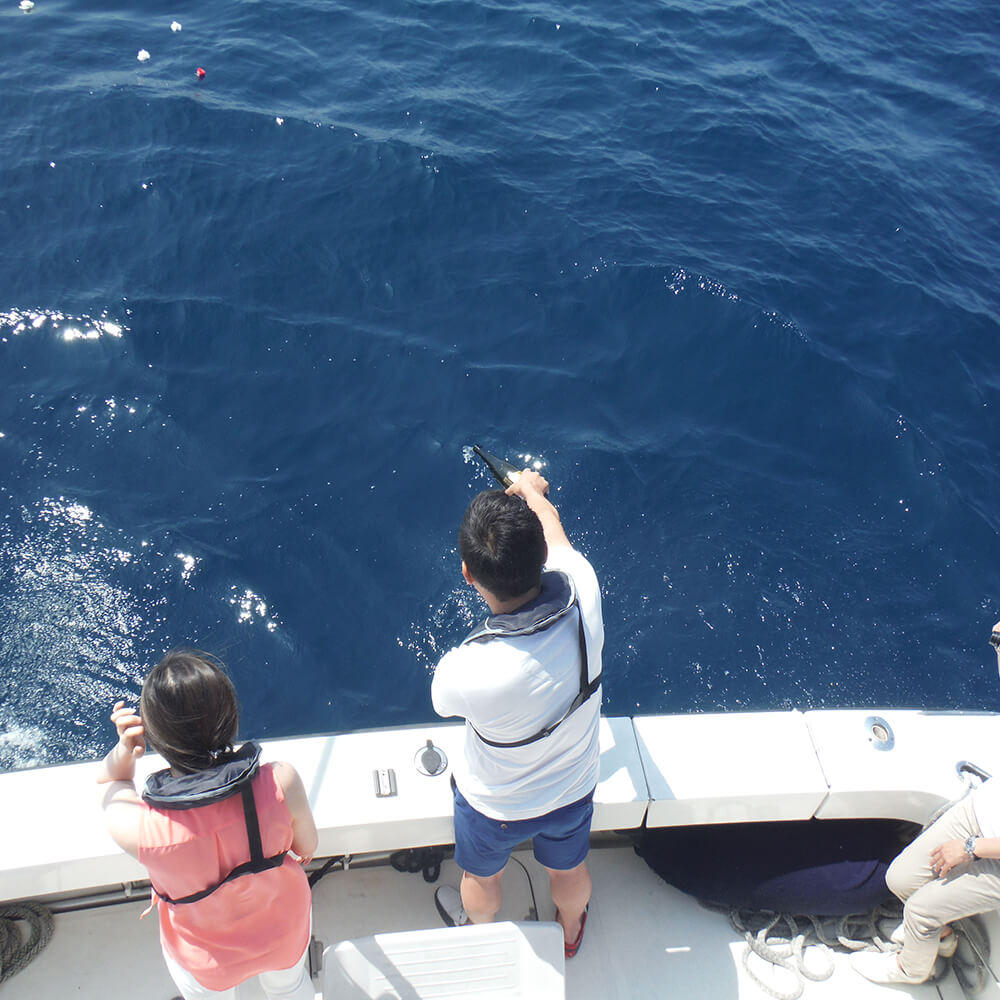 JPY 180,000 + tax (it is a charge for up to 4 people. additional boarding JPY 5,000/ max capacity: 12 people) ※Approximate time aboard: 60 minutes The ash-scattering zone we cover: Harbors we sail from: Please choose the departure place from Hiratsuka, Katase Enoshima, Hayama. (please refer to the google maps in the Japanese site.) Other departure locations are available at an additional charge. Please contact us. What is included in the price: Powdered ashes
Powdered ashes
Water-soluble paper bag (for the number of people on board)
Disposal cost of urn
Charter fee (boarding ceremony, bell, whistle)
Onboard drink service (tea, coffee, soft drinks)
Berthing charges and insurance premiums
Flowers for the deceased. Ceremonial sake and water for the deceased
Ash scatter certificate
※Boarding time 60 minutes (Time extension: 15,000 yen / 60 minutes) ※An additional flowers option can be accepted from JPY 8,000 up. This exclusive luxury cruiser charter plan allows relatives and close friends to bid a discreet, unhurried farewell to the deceased in complete privacy. Relatives and friends of the deceased will want to show their gratitude to the deceased, and pray for them as they embark on a new journey. A ceremony in accordance with your wishes can be arranged – onboard facilities include equipment for playing music especially liked by the deceased – one that will remain in the hearts of the bereaving family. Staff will convey family and relatives to the ash scattering sea area for a simple final farewell gesture for the deceased. We accept a single passenger on board.
Delegated Ash Scattering Plan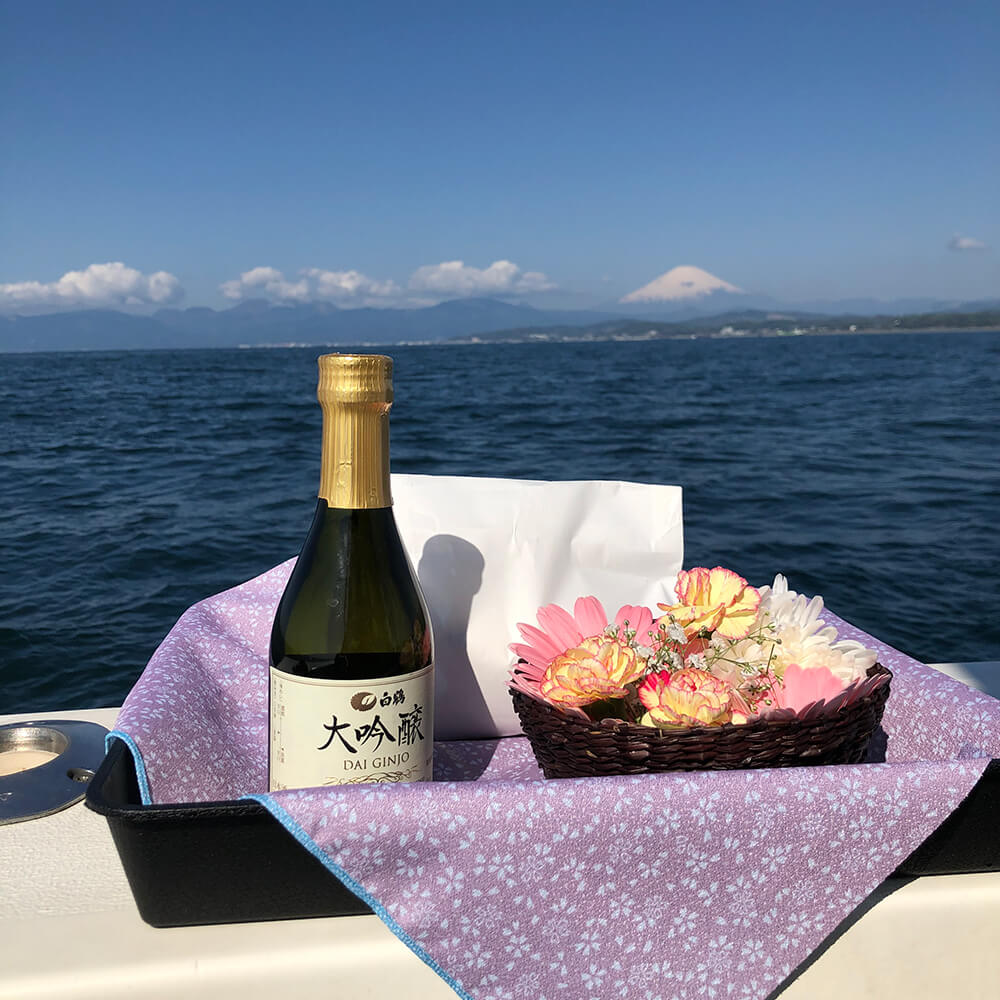 JPY 60,000 + tax The price is for one deceased. We also accept domestic parcel delivery by Japan Post Yu-Pack from any areas over Japan. What is included in the price:
Powdered ashes
Water soluble paper bag
Disposal cost of urn
Flowers for the deceased. Ceremonial sake
Ash scatter certificate
This plan is available for families and relatives who, for various reasons, are unable to make the sea journey. In these case, our staff can undertake to make the final farewell to the deceased on the family's and relatives' behalf. For these plans, we will determine the date and time of the ash scattering (for operational reasons, we cannot accept requests for particular dates). We will scatter in the Shonan Sea area and report on the scatter points (certificates) and proof photographs usually within 2 weeks. We respect the deceased and will use the same vessel (BIG TAKⅡ)as the charter vessel.
Enquiries / Reservation
If you have any questions,please call us (0467-81-4099) or use the form below.
※Please feel free to contact us if you have any concerns regarding scatter bone,or matters concerning the sea or a charter boat.
Please fill in the required information and click [send]
ENQUIRIES

FORM
RESERVATION

FORM
Application Acceptance Condition
Please contact us by phone or via our application form and we will make an official reservation with a cash deposit in advance. Please wire JPY 30,000 to our corporate account below . The credit card function is currently under preparation. We are sorry for the inconvenience caused.
Account for Bank Transfer
| The Bank of Yokohama, Ltd.(code:0138) Chigasaki Branch (code:631) | Savings a/c No.6120363 | BIGTAK Marine Services Co. Ltd |
| --- | --- | --- |
Please compensate for the wire transfer fee. The wire transfer request form or book entry at the financial institution will replace the receipt.
Cancellation policy
※If you cancel your reservation due to your personal convenience, you will be charged cancellation fee based on the conditions below. ※Rescheduling due to the weather / or sea condition will not be charged. ※Cancellation after powdering of the bones requires a powdering price and cancellation fee based on the cancellation date.
| Cancellation Day | Charge Rate |
| --- | --- |
| No show / On the day | 100% |
| 1day prior | 80% |
| 7 days prior | 20% |
| 14 days prior | 10% |